Frequently Asked Questions
What is a Birth Doula?
Doulas are non-medical support people. We are there to give you the information that perhaps the doctor forgets to mention or go over. We play devil's advocate and list out the pros and cons of each procedure. We do this from an unbiased standpoint. Because honestly it is not up to us, but you to make the choices that are right for you.
What does a Doula do?
In a nutshell?
Emotional Support
Physical Support
Breathing techniques
Informational Support
Relaxation techniques
Laboring positions
Massage for comfort
Support for your partner
Making sure you eat and drink enough
Letting you know when it's time to go to the hospital or birthing center (if necessary)
Help with communication between parties
Birth doula support can look different for each family. Meaning we are adaptable and will tailor care to your individual family needs. 
What does a Doula NOT do?
In a nutshell?
They do not perform clinical tasks such as vaginal exams or fetal heart monitoring
They do not give medical advice or diagnose conditions
They do not make decisions for the client (medical or otherwise)
They do not pressure the birthing person into certain choices just because that's what they prefer
They do not take over the role of the partner
They do not catch the baby
Why can a doula make a difference in my experience?
Doulas are hired directly by you. Our only agenda is to support you in your goals.  
Similar to a lawyer our first commitment is to make sure you feel empowered to make the decision that is right for you.
Overall, in a Cochrane Review birthing women who received continuous support were more likely to:
have spontaneous vaginal births and

Better APGAR scores for newborns,
Shorter labors,
Higher rates of breastfeeding at 6 months and,
Lower postpartum depression risk
Lower infant and maternal mortality risk
Women who have labor support by a doula are less likely to:
have any pain medication, 

epidurals,

negative feelings about childbirth,

manual/manipulated births, 

C-Sections 
There is no evidence of the negative consequences of continuous labor support by doulas.
Why?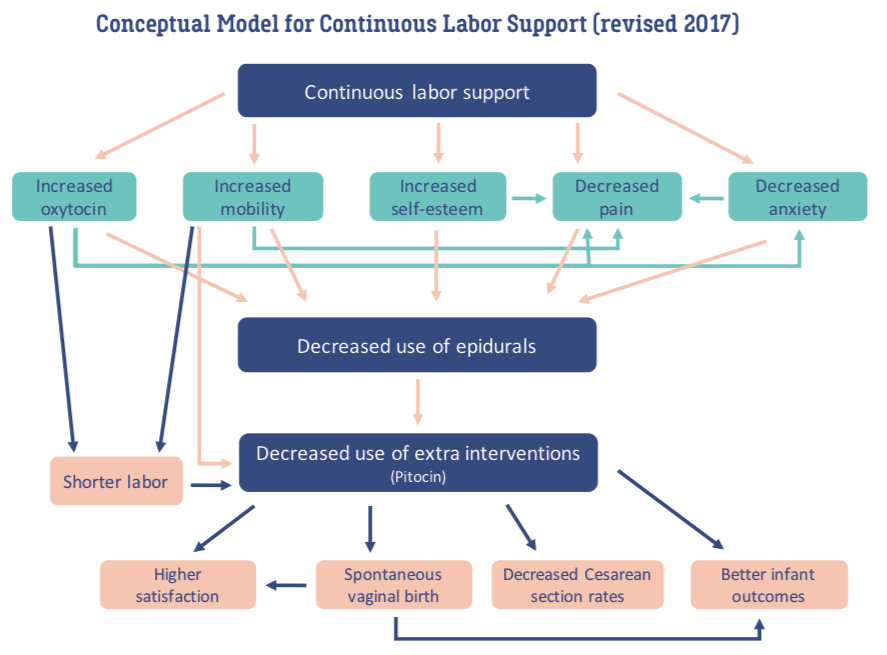 Is a Doula different from a midwife?
Short answer?
Yes. We are different.
A midwife is there to medically make sure you and the baby transition from pregnancy to postpartum safely and as smoothly as possible.
Orlando homebirth midwives are there as a medical professional. Midwives are a needed profession and help bring pregnancy and labor back from overmedicalization to normalization. 
Research shows that the midwifery model of care is far safer than the standard care of OBGYN's for many women, about 80%.
Are Doulas in Orlando covered by Insurance?
Short answer: Maybe. 
Some insurance companies are REIMBURSING for doula, childbirth and lactation support. So definitely check with your insurance provider to see if your plan covers our amazing support. 🙂
How does Doulas of Orlando work?
We work as a team to make sure you are covered and so are our other clients. 
Sometimes life happens. We have a TEAM, of at least 3 experienced doulas for each client, just in case one of us gets sick,  another client goes into labor and/or both.
Why do I need a Postpartum Doula?
When a new baby comes, sometimes family and friends don't know how to help. Sometimes they aren't available. 
It does take a village to care for a new mom and baby duo, we can be your village.
What does a Postpartum Doula do?
Support the family in a caring and safe way.
Some of the duties include:
Breastfeeding support
Help with the emotional and physical recovery after birth
Light housekeeping so that mom does not feel so overwhelmed
Running errands
Assistance with newborn care such as diapering, bathing, feeding and comforting
Light meal preparation
Baby soothing techniques
Sibling care
Referrals to local resources such as parenting classes, pediatricians, lactation support and support groups
When should you hire a postpartum doula?
Usually, we suggest reaching out at the beginning of your 3rd trimester.
This will give you some time to think about what kind of schedule you will want, what duties you want them to do, etc.
What is the difference between a Postpartum doula and a baby nurse?
We, postpartum doulas, are there to support the whole family as a unit. We provide a smoother transition into parenthood and offer a safe space for the family to gain their footing in their new role.
Baby nurses are exclusively there for the baby/ies
Free 15 Min Chat
Schedule your chat, find out more about how we can support your transition into parenthood.
Book Appointment
Worried about the details? Book an in-person consult.
Amazing Support
Industry-leading doulas here at Doulas of Orlando trained and supported to give you the best care.
Contact us
Ask a question or book an appointment below.